About Us
In crowded, traffic-jammed, always-on-the-go LA, who's got the time? We've got you covered!
At WashClub LA, we have a good understanding of life's challenges. Seriously. The current owners bought our current laundry location in the heart of Los Angeles in late 2014, only to have a serious fire almost destroy the entire building shortly thereafter. The best laid plans...
Well, that didn't stop us. We vowed to rebuild and create a modern, laundromat with a great variety of the most current washers and dryers. We even expanded during the rebuild to have an entire fully staffed area dedicated to just handling our WashClub LA clientele in the most timely, clean space with individual locking cabinets for the safe keeping of all your clothes in between pick up and returned delivery times.
Like yourselves, we are very busy people and we love our clothes -- we really love our clothes -- so we created an ONLINE and MOBILE APP laundromat that is modern, efficient and effective. With WashClub LA, getting your laundry done is as simple and quick as tapping your phone.
After all, in crowded, traffic-jammed, always-on-the-go LA, who's got the time? We've got you covered! Pickup and delivery of laundry is offered seven days a week. Pickup and delivery is between 6AM through 12PM and 4PM through 10PM daily and turnaround time is only a day for laundry and 48 hours for dry Cleaning. It's faster than asking your honey to do it for you and there's no argument.
We love that we are starting fresh! Like a phoenix rising from its ashes, we are ready to provide the most comprehensive laundry services in southern California! We take great pride in the services we provide and know that we will not just meet your needs, but surpass them.
Welcome to WashClub LA!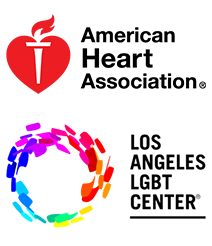 Non-Profits
Did you know we offer special rates for Non-Profits?! Give us a call or email us how we can help.
We have worked with American Heart Association, LGBT Center, Hollywood Neighborhood Coalition, and many more!
If you would like to learn more, please give us a call at (323) 829-1288 or click here to email us.