Gift Cards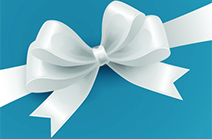 Give the gift of laundry and dry cleaning for your friends, family, or loved ones!
Flowers or candy? That's predictable. Purchasing a gift card from WashClub LA is unique. Just when your wife thinks she has to spend the day doing laundry, she finally gets to kick back and relax!
Buying a gift card from our website is simple. Simply select the special occasion below, the amount of the gift card, and enter the recipients email address. Then, simply proceed with the ordering process.
Upon completion of your order, you will receive a receipt via email, and the recipient will be notified via email as well. Once you complete your purchase, there is nothing you need to do!
If you have any questions, feel free to give us a call at (323) 829-1288 or click here to email us.
Simply select an occasion below to get started!